French twist hairstyle pictures
The
French twist
is great for prom, weddings or any formal occasion
The
classic

French twist
is elegant and sleek, perfect for special occasions like weddings and black-tie parties. The modern

French twist

, a flirty modification of the classic, is good for cocktail parties, work or a night out on the town.
french twist

updos
french twist
hair style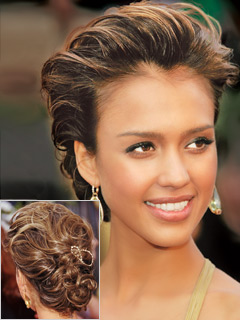 For the classic twist, you might substitute small hair combs for pins. Move the comb in the direction of the twist, snagging a small portion of the roll just before you pass over it. Lift the comb 180 degrees and then push gently into the roll and hide it in the groove.
With a lot of practice you'll learn to achieve this look in less than 10 minutes.
For a modern take on the classic

French twist

try going wavy. For those with natural wave in their hair don't smooth the curl out. Instead, loosely pull the hair back and let the waves show. For those with straight hair set your hair in small rollers before starting the twist.
Avoid pulling or twisting your hair too hard, as unwanted breakage or hair loss may result.
Be careful not to claw yourself with the ends of combs, bobby pins or hair sticks
french twist